You can use several optional parameters in your Template in order to realize specific functions. Please remember that all named ranges in data1.io must be defined on a sheet (and not workbook) level.
The following optional parameters can be defined:
data1_CELLS01_SysDELTA (see here for more details)
data1_CELLS01_ExceptionType1 usw. (see here for more details)
data1_CELLS01_IsSumLevel
data1_CELLS01_SyncSheets_Read
data1_CELLS01_SyncSheets_Write
data1_CELLS01_CurrentUserKey
data1_CELLS01_CurrentSheetVisible
data1_CELLS01_IsSumLevel
This is very simple: double clicking an element in the dimension tree will bring a "0" or a "1"
0 = Sum Level
1 = Bottom Level
You can use this parameter for a level-specific configuration of the R/W control panel in order to realize advanced aggregation effects.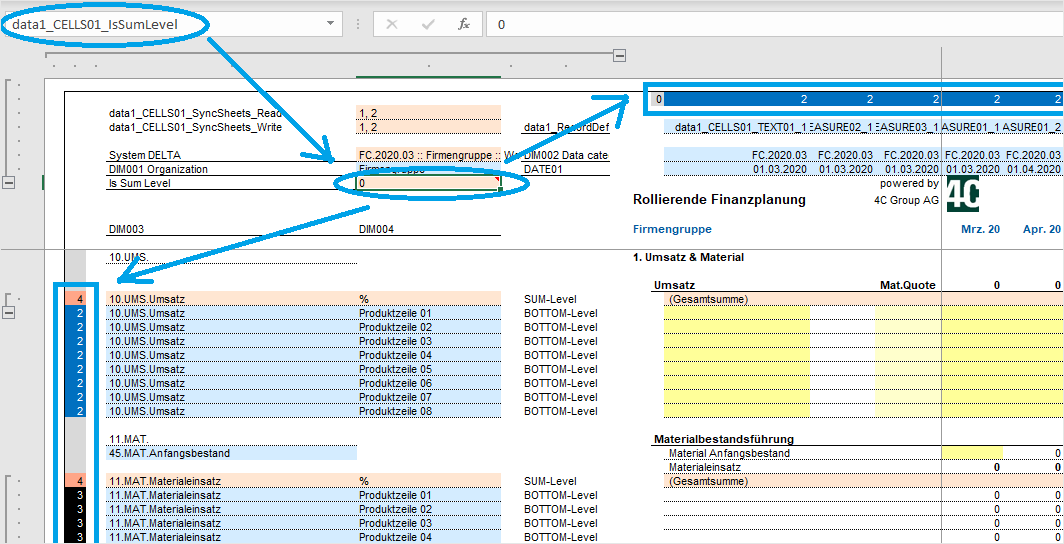 data1_CELLS01_SyncSheets_Read
(to be documented)
data1_CELLS01_SyncSheets_Write
(to be documented)
data1_CELLS01_CurrentUserKey
(to be documented)
data1_CELLS01_CurrentSheetVisible
(to be documented)