You can use several optional parameters in your Workbook in order to realize specific functions. Please remember that all named ranges in data1.io must be defined on a sheet (and not workbook) level.
The most important
The following optional parameters can be defined:
data1_CELLS01_DIMxxx_Key
data1_CELLS01_DIMxxx_Attribute
data1_CELLS01_IsSumLevel
data1_CELLS01_DIMxxx_Type
data1_CurrentUserKey
data1_ChangedCellFormat
How to use
data1_CELLS01_DIMxxx_Key
You can use this optional parameter to get the Key of the currently selected element in the dimension tree (addtionally to the obligatory name of the element).
data1_CELLS01_DIMxxx_Attribute
With this parameter you get the name of the field ("level") of the currently selected element in the dimension tree.
This parameter is important to build dynamic element list reports (the parameter is used in the "array format" there). It was also used to build the filter statement for dynamic tables, but this parameter was replaced by the newer "data1_CELLS01_DIMxxx_Key_Path" parameter which is the better alternative for this field of application now.
data1_CELLS01_IsSumLevel
This is very simple: double clicking an element in the dimension tree will deliver a "0" or a "1":
0 = Sum Level
1 = Bottom Level
You can use this parameter for a level-specific configuration of the R/W control panel in order to realize advanced aggregation effects.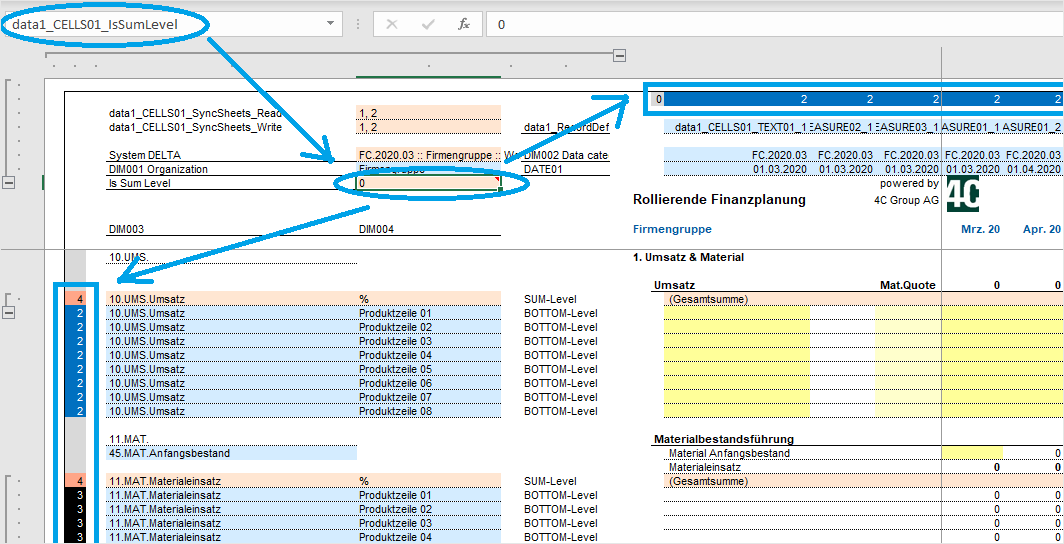 data1_CELLS01_DIMxxx_Type
Use this parameter to get the element type (UID) of the selected element in the dimension tree. Please be aware that this parameter delivers null/blank when selecting a sum level element.
data1_CurrentUserKey
Delivers the e-mail adress of the currently logged in user. Can be used to setup a user specific security within the workbook.
data1_ChangedCellFormat
With this named range you can define, how the background and text color should be changed in the Web Client, after a collector user has entered a value in a cell.
Please note that this parameter was defined as data1_CELLS01_ChangedCellFormat until November 2022.